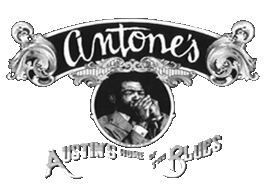 Antone?s is much more than an Austin music venue; it is even much more than an Austin musical institution. In so many ways, what it is and what it has been for nearly 30 years is the beating heart and seated soul of Austin music. Only a very few other venues have the distinction of maintaining a vital presence longer than ?Austin?s Home of the Blues?, and I would argue that none has been as significant or as vital to the propagation and perpetuation of the phenomenal music that has been produced in this town.
It has been my distinct honor and privilege to have contributed, by virtue of my profession, in some small way to its identity and success in those endeavors. From the creation of its logo, through its four incarnations, to the producing of promotional pieces straddling two millennia, I have had the greatest creative fortune to have been part of the Antone's story, and the incredible music created and preserved within its humble walls. And although that music has encompassed many genres and labels, it is and has been to the Blues that this powerful cultural force has always been dedicated. Much ignored and often denigrated, the Blues remains, with its twin sister, Gospel the most original and vital form of American music.
Here are some of the fruits of those labors; the proudest achievements of my art?