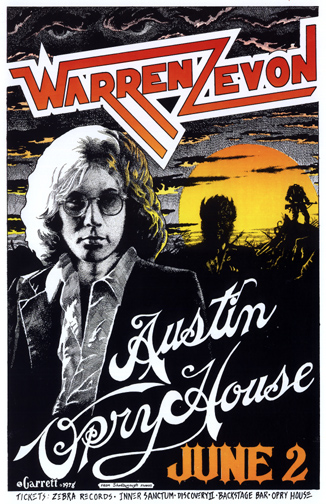 Warren Zevon
Austin Opry House

June 2, 1978

11" x 17" (27.9cm x 43.18cm)
---
The music in Warren Zevon's much acclaimed first album was, in general, of a very dark nature. So I chose to theme my poster that way as well. You can easily see that with a cursory glance. A pen-and-ink piece, I had to apply a great deal of the ink with a brush instead of a pen. At the top, as part of a lowering sky, two eyes are worked into the horizontal bands of clouds that move across the sunset. Behind Warren are two figures that are representative of two cuts from the album -- Werewolf of London and Roland, the Headless Thompson-Gunner. This is a typical two-color poster of the period. The base color as always is black, but the second color is a split-font - running from the top down, it's red-to-yellow-to orange, with the clouds, the title lettering, the setting sun, highlights on the three figures, and finally the date receiving the color(s).
Warren Zevon was the hottest new musician in 1978. His album, Excitable Boy had come out only two months before Tim O'Connor directed me to do this poster for his summer gig at The Austin Opera House. Recently the name of the club had been "upgraded" from The Austin Opry House, a direct play on the previous tenant, The Texas Opry House. The venerable location on Academy, just off South Congress Avenue had been built in the early 1950s as a convention center of sorts, and was a huge sprawling facility with two big meeting rooms that had served as concert halls when the Texas Opry was there. After that venue had gone under the previous year, Willie Nelson tapped O'Connor to use his vast experience and concert expertise to make a go of what was to be the largest music venue in Austin. The partnership of Nelson and O'Connor was to prove an enduring one; even surviving the demise of the club in the late 1980s.
The Zevon show was a great one, with The Fabulous Thunderbirds opening for the California singer-songwriter. The hall was sold out and the wall-to-wall crowd was taxing the capacity of the air conditioners and the room was starting to warm up. After an incredible two hour set it was over and I hurried backstage to get the performer to sign my original art. By the time I reached his dressing room - about 5 minutes or so - he was mightily inebriated, and with something a bit more stout than alcohol. I wasn't too surprised; this was the 1970s. Whatever it was, it was well deserved. He had put on a tremendous performance.
This replica poster is only offered via Danny's special order email service. Drop him a line at this link, and he'll get back to you with pricing and availability. Currently (July 2005) we have a limited quantity of replica prints in stock.